100% sustainable and naturally compostable tableware
The Zelah brand of palm leafware products are made from the Catechu species of the Areca palm tree. Only the dried leafs that fall from these almost 100ft tall palm trees are used in the making of the products. Which makes it one of the most sustainable sources of single use products, though it also makes the industrialisation of the process difficult. There are no external agents used during the manufacturing process which makes it 100% naturally compostable. And do not forget the fact that they make food instagramable and chic 😃
You can literally throw them outside without polluting the environment (You would still be littering, so don't 😃)
The Zelah line of Palm leafware were voted as one of the most innovative products at the Florida Restaurant and Lodging show. We do not plan to rest on laurels but are constantly working to improve the quality, sustainability and user experience of our products. We will be the first to admit that there are still areas of improvement in the useability of the palmleaf based products, which only gives us more opportunity to innovate.
100% Sustainable
The leafs that are used to make these products are harvested without cutting down of any trees. Since the trees are grown for their nuts, these leaves that used to be trashed have now found a sustainable use.
100% Compostable
Since there are no chemicals or other agents used in the manufacture of these products, you can home compost these products like any other organic matter. Make sure to have the right amount of greens and browns :)
UV Cleansed
Since we do not use any preservatives, coatings or other agents, we hand scrub and UV sanitize/cleanse every one of our products. Every batch is also microbe tested independently.
Heat Safe
These palm leaf products can be used to hold hot solids and liquids. They are microwave safe for short durations also which makes them versatile to hold a wide variety of food and drinks.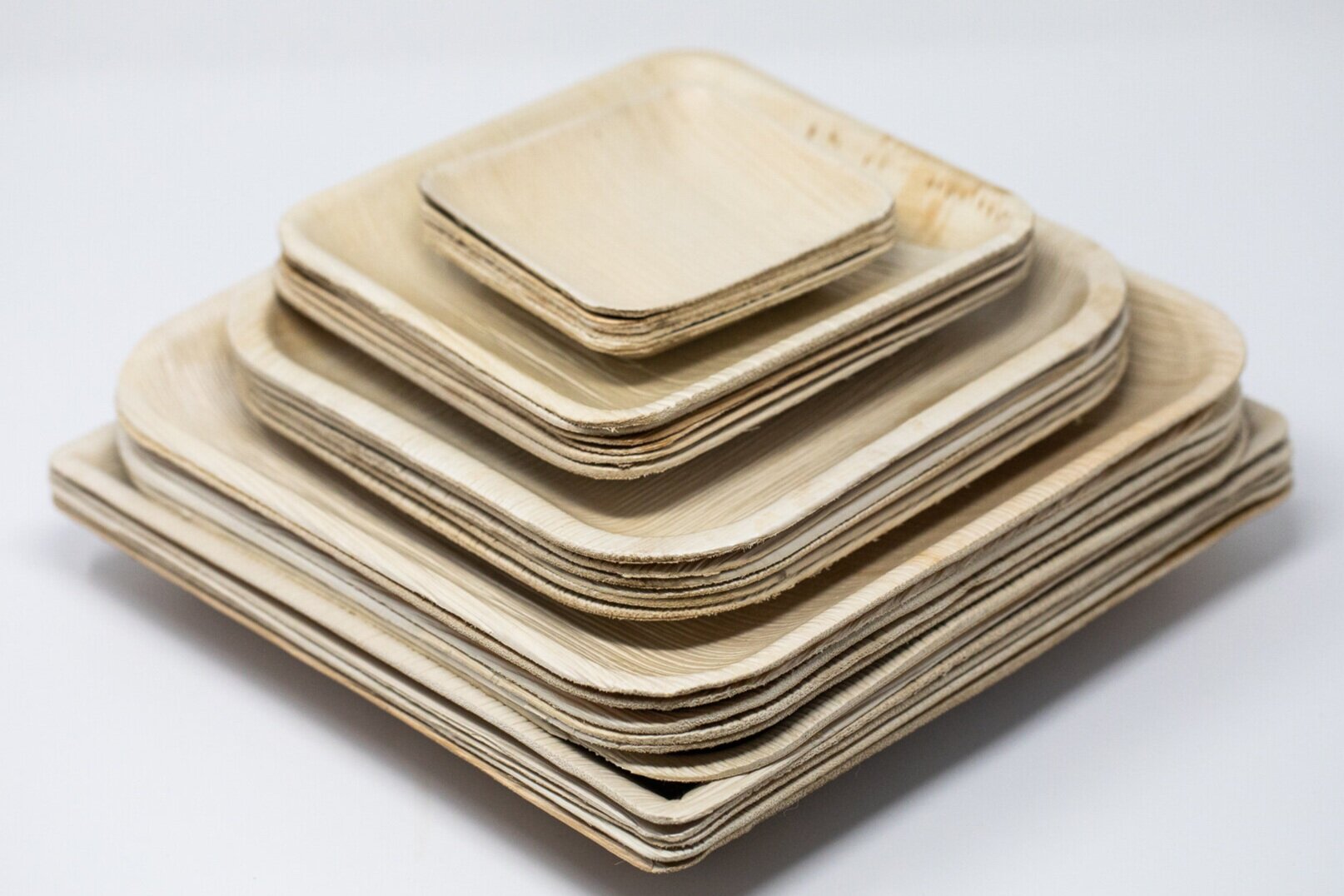 Our square plates come in the following sizes
Small Plates for bite size and hors d'oeuvres

3" shallow square

4" shallow square

Medium Size for Appetizers

6" shallow square

8" shallow square

Large Plates for entrees and main dishes

9.5" shallow square

10" deep square
Our Round plates come in the following sizes
10" round plate - for entree and main dishes

8" round plate - for appetizers and side dishes
We also have the option of producing
6" round plates

7" round plates
We have bowls in various shapes
5.5" deep square bowl (Has a depth of 5") - Good for soups

6" square bowl (Depth of 2") - Good for a salads bowl

5" deep round bowl - good for soups or salads

7.5" rectangle bowl

6.5" pyramid bowl
No matter the occasion or the design need, we have something for everyone
In addition to the squares and circles we also have the following unique designs
6" heart shaped plate

9" x 6" Rectangle plate

13" platter

5" x 7" oval

11.5" x 5" boat shape

12" 4CP partitioned plate
We are currently expecting to start shipping from the 2nd week of November
If you have needs for custom dimensions or other unique designs, please reach out to us at info@reeden.co. We can work with you to make your designs a reality.